This one made me laugh! There's something wrong with the design of these signs. Simply because they don't do their jobs :).
On one of our many walks outside (we have to make kids tired to have a better sleep at night :)) we came across this situation. There was an area of the on street parking space (or parking bays) that was protected by traffic cones and workers put two signs at each side with a notice "NO PARKING BETWEEN SIGNS". Two hours later the cones were put on the sidewalk and tree cars were parked between the signs. It is interesting how people just ignored them. There was a free parking space few meters down the road but why walking that much. It reminded me of Slovenia and a joke I have about Slovenian drivers who try to park as closely to their destination as possible: "they would go to the toilet with a car if possible". Maybe sometimes in the future. In the mean while … get on your feet and do some walking people :)!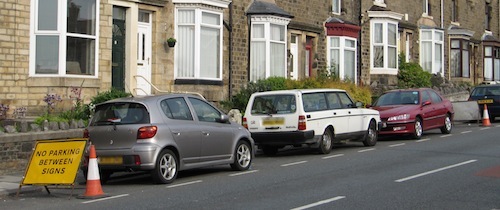 PS: I take advantage of this behavior as well. In the town where I work there is a lack of parking places and a huge parking space by the town. While everyone tries to find a parking spot that is nearer to the town (and even circle around searching for one), 100 meters away there is no jam. So I pass by walking while those people still circle around. Amazing, how some people are willing to sacrifice 15 minutes or more of their life every day just for not walking 100 meters :).
.