The new version of Skype for OS X (5+) received a lot of negative comments from users. It is getting better but I was still missing to see all my contacts at once.
I know it is possible to open the Contacts monitor, but that is a separate always-on-the-top window. Instead I wanted to see all my contacts on the left sidebar. On default, the left sidebar or sidepanel includes the most useless information possible: a log of my last conversations – my history of Skype usage. I couldn't care less who I called. I call people when I need them and not based on looking at my history ;).
However, it is possible to have all contacts on the left if they are added to favorites (as of version 5.3):
1. Click on the Contacts on the left side below the username
2. In Contact list click on the white star on the right of the first contact's name (it becomes grey after a click)
A new category Favorites shows in the left sidebar.
3. Keep clicking until all your contacts are on the left
Not the fanciest solution, but it works.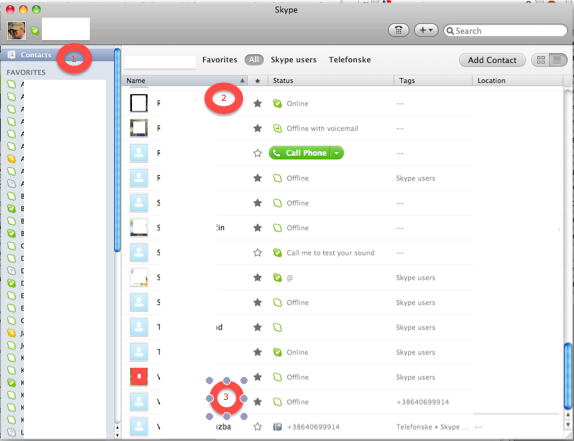 Now the dial pad windows pops up automatically every time I open Skype, but I'm not giving up on new UI yet 🙂