I tried to download and install Google Picasa on Windows XP. It is not such an easy process as it seems at the beggining.
I used Firefox 3.6.8 on Windows XP and launched the Google search engine. I typed the word Picasa in the search box. The Google Picasa was the third hit but unfortunately for the Mac OS X. The fourth hit was Picasa for Linux. I clicked on the plus sign below the third link to show more results from the same server.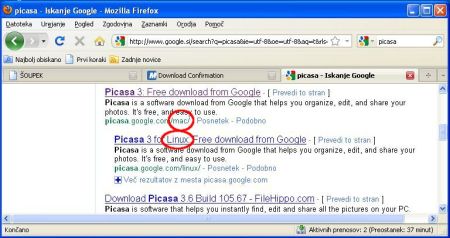 The third result on the expanded list (the 5th result from the same server and the 7th result of all results) was picasa.google.com which would let me download Picasa for Windows. But I didn't click on it. Instead I went to the page of Picasa for Mac where I tried to find the option/link for other operating systems.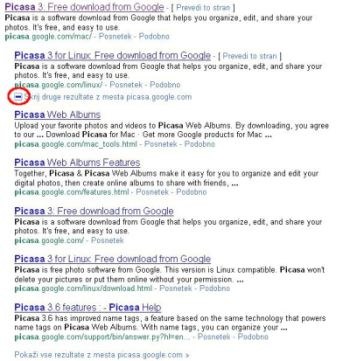 As expected, it is hard to find a download link for other operating systems on the Picasa for Mac site. The link is located on the bottom of the page in a small print. I would not expect it there. I understand why not highlighting it on a page for Mac users, but putting it in the footer (where copyright and similar legal stuff is)!?! And only an option for Windows is available in the small print; why not Linux?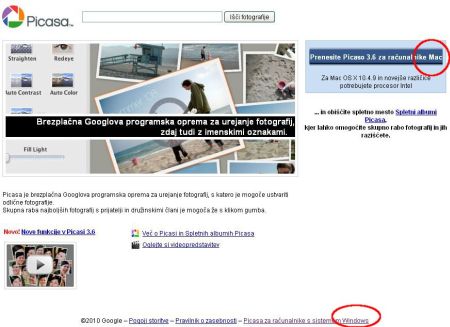 I know Google can do better :). A better example is Gimp search result (which uses Google's capabilities anyway!):

PS: for anyone wondering – the FF and Google are in Slovenian language.