PIM tools
Jump to navigation
Jump to search
PIM application or tool is any tool that help us manage information. In a real world this are desk (if we have e.g. organized piles) file cabinets, paper clips, staples, etc. In the digital world these are applications that let and help us manage information. Examples are file manager, email client, web bookmark manager, calendar, address book, RSS client, voicemail, photo manager, video manager, to-dos, etc.
Some of such applications allow also other activities like viewing, creating, editing information. A web browser's primary function is to browse the web, but it usually has bookmark manager integrated. A web browser is also used to host web applications that let us manage information (like web email client, web calendar, social media). Email client is used to manage information but also for creating new and viewing existing information. An instant messaging (IM) client is used to have conversations with other people but the part that logs conversations and lets us manage them is a PIM.
PIM research prototypes
Below is a list of Personal Information Management (PIM) prototypes that have tried to answer/solve one or more problems we as users face everyday with managing our personal information.
In the frame on the right is a list of tags. Selecting a checkbox by a particular tag highlights prototypes that correspond to a selected tag. More than one tag can be selected resulting in OR highlighting. Tags were chosen subjectively by the author.

Stand alone version of the below list

A list has over 80 prototypes listed and is growing (if anyone sends me the paper of their prototype). Although the present list is not short, there are other tools which probably deserve to be listed here. Please let us know of any missing research PIM prototype (even if it is of commercial nature now). You can also add it at the bottom of this section in a WIKI (look at the example). We would appreciate every suggestion and critique about the list, tags and mistakes we made putting the list together.
Mainstream PIM applications like Google desktop search, Bento, MS Outlook, etc. or any other smaller scale application are not listed.
Other missing prototypes (any added prototype will be included on a list above):
List of commercial/freeware/.../opensource PIM applications
Original article can be found here.
Visualizing large hierarchies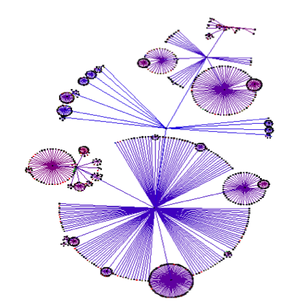 See main article Visualizing large hierarchies
Besides lines and nodes (like file hierarchies are presented in today's file managers) and intended outlines (like the table of content of a document) there are several other (large) hierarchy visualizations. Most of these visualizations do provide an overall view on hierarchies but most are also suitable to manage information. Most of them focus on one aspect of information items (e.g. size) and do not provide enough contextual clues for pim activities.
Other sources and lists
There are several lists of PIM applications on the web:
There is also a (rather old) book on available PIM software from 1996:
Notes