We all like to fly cheap. And to find cheap flights a lot of us use flight search web sites. Sites like Expedia and SkyScanner are very popular. But all return results on the list like in the below examples:

Figure 1: Expedia


Figure 2: SkyScanner
It is sometimes very difficult to visualize the flight and compare it with other flights based on takeoff and landing time, the amount of time of the whole trip and other flights that might be available from near airports. I always check for example flights from Venice, Treviso, Ljubljana, Trieste and Pula to Manchester, Birmingham, Liverpool and London. And then all these routes on different dates. It takes some time to find the cheapest available route.
An answer to such queries can be the new flight search engine Hipmunk. It automatically includes the nearby airports, visualizes time and transfers while all different searches can be held in tabs. On the below example I searched for the flight from Trieste to Liverpool and got results from several other airports in nearby vicinity.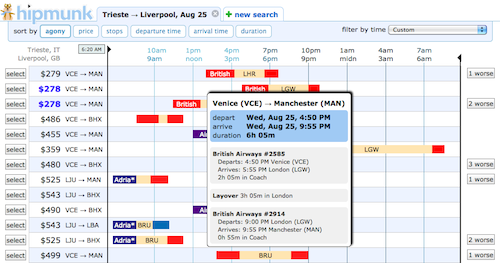 Figure 3: Hipmunk
The only thing I'm missing is to be able to look a few days before and after the selected date. I can do this in a new tab but I have to enter all data again for each date. SkyScanner for example (see Figure 2) allows users to change the date by one day with clicking on left and right arrows around the date. Ryanair for example shows a weekly overview of all the flights from and to choosen airports as can be seen on the picture below.


Figure 4: Ryanair
Other than this Hipmunk really is a nice search engine for the cheap flights. Looking forward for improvements.
EDIT: There's Matrix 2 software of ITA (you might have heard of it because it was bought by Google recently). Besides a list view they provide monthly view of flights as well.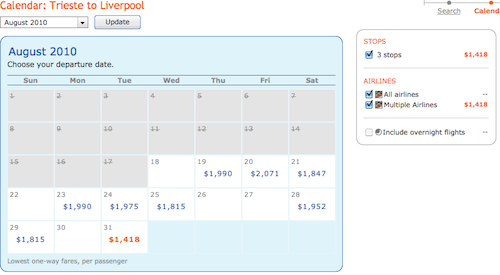 Figure 4: Matrix 2
PS: The searches I did do not make much sense. There are no direct flights from Trieste to Liverpool. There are direct flights to Liverpool from Treviso airport which is the closest to Trieste. Or from Trieste to Birmingham.
PSS: It is also worth checking the web sites of air companies to get some special deals :).